It's race week yet again, as we return to the long gone, but certainly not missed Circuit Paul Ricard for the 2021 French Grand Prix.
This track is really overstaying its welcome.
I've already made a post that goes into detail on what us fans would like to see in a track. Although Paul Ricard has had some history, it's delivered no recent exciting races, a small atmosphere, and honestly, Zero overtaking opportunities.
The only thing Paul Ricard has got going for itself is an abundance of absurdly difficult high and low-speed corners.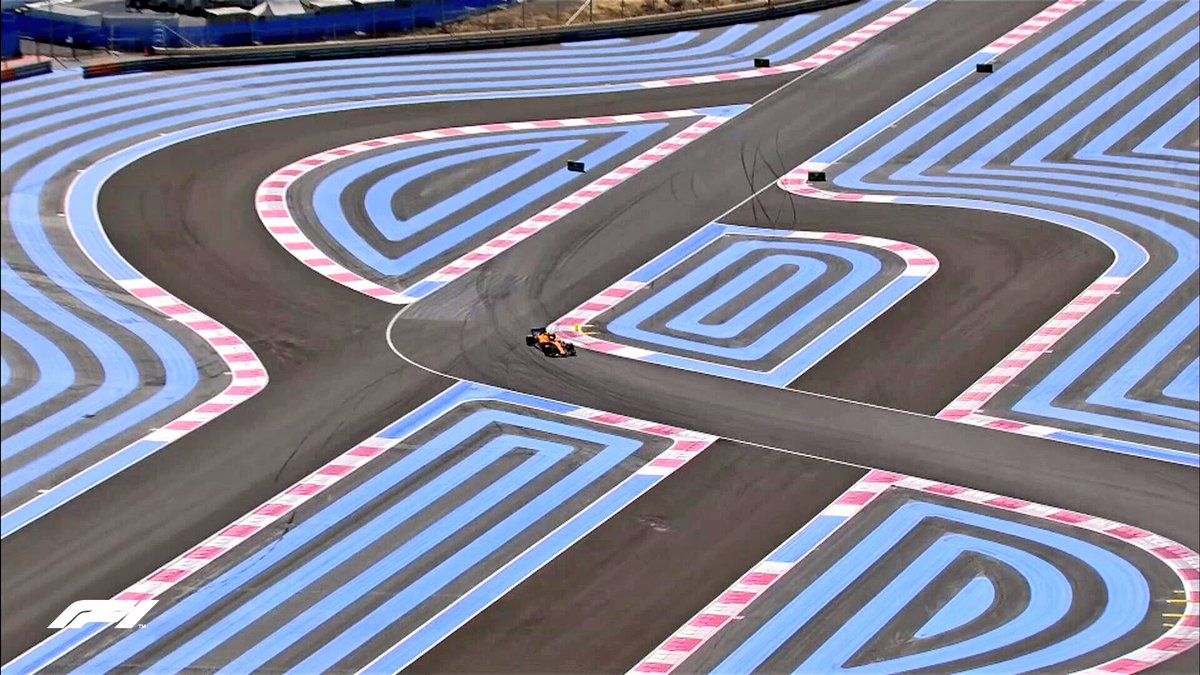 This is expected of course. It's a test track.
Like Barcelona in Spain, Paul Ricard, while designed for racing, wasn't really thinking about giving the current generation of F1 cars chances to overtake. However, the two circuits excel at allowing the teams to collect data on their cars. They're not slow tracks, and they're not that high speed either. They have the perfect balance of turns, which is exactly what teams need when they want to see how their cars will perform in each type of corner.
But that's what they should stay as. Test tracks.
Baku is one of the worst tracks when it comes to figuring out the overall pace of a car. However, year after year, it consistently delivers exciting races and thrilling battles, like we saw last week.
There is a difference between practice and performance, just like how there's a difference between test and race tracks. Keep the test tracks for testing, and the race tracks for racing. What we're requesting isn't too steep of an ask.
Right?
Possible Replacements
"But Miles, if we get rid of all the boring testing tracks, what are we gonna replace them with?"
Very good question.
For a track to be allowed onto the F1 calendar, it needs to have Grade One certification from the FIA. And they don't just give these titles out. There are certain requirements that need to be met, such as track width and length, safety features, and space for spectators, media, and teams. It might be picky, but it makes sense. I mean, can you imagine a race this season at Brands Hatch, a circuit with only a Grade Two certification?
I like Brands Hatch, but c'mon. With 2021 F1 cars, this'll become the British Monaco.
So I've put together a list of tracks with Grade One certification that I think could replace some of our test tracks, and the other less exciting ones too.
Because let's be honest, something insane's happened if you're looking forward to racing at Abu Dhabi.
Spain
Even though Spain delivered a decent race this year, we can agree that was not supposed to happen. While it seems like a fun track to drive, it just doesn't have the capability to produce good racing. And unless the layout is changed, or the 2022 cars develop an overtaking addiction, it will most likely stay that way.
So instead, I present to you the Circuit de la Comunitat Valenciana Ricardo Tormo.
Unless you watch MotoGP, chances are you have no idea what this track is. That's okay, because prior to today, I didn't either.
Featured as the 2021 Valencia MotoGP, Ricardo Tormo does have Grade One certification, and according to the onboard lap, it looks like it has some good overtaking opportunities, and some exciting corners thrown into the mix as well.
The fast left hander of Turn 1 , the slower 4 & 5, and the technical section of the track all add up to a great lap. Turns 2, 14, and possibly 8 if you're feeling ambitious look like great places to go for a move.
Compared to what we have in Barcelona, I'd say this is worth a try.
France
You've already heard what I have to say about Paul Ricard.
As it's replacement, I've chosen a track that the community is fairly familiar with, and one that's been on the calendar before. For the French Grand Prix, I offer up the Circuit de Nevers Magny-Cours.
With 18 Formula 1 races to its name, Magny-Cours is no amateur to the racing scene. And from the onboard lap, it's pretty clear why. Flowing corners, hard braking zones, overtaking opportunities, this is exactly what we need. With chances to go for a move in Turns 5, 9, 14, and even 15, I can confidently say this track would produce much better racing Paul RIcard give us.
One more thing I'd like to add is that here at Magny-Cours, you actually get punished for going off the track. The run-off areas at Paul Ricard pose virtually no threat to the drivers, because if you run wide, you're not met with a seat full of gravel, no, you get more tarmac to carry your momentum. This negates the punishing factor of mistakes that tracks like Monaco, Baku, and Singapore have.
It's been made clear to us in recent years that Paul Ricard has been unable to give us good racing. I think it's time we saw Magny-Cours make it back onto the calendar.
Abu Dhabi
Abu Dhabi. Yas Marina. A perfect example of not judging a book by its cover. While this track may look nice, the racing that goes down over there is, well, you already know what I'm gonna say.
The first three corners are fun, but after about a minute and fifteen seconds, you find yourself becoming a master at 90 degree turns.
That's literally all Yas Marina is. Right angles. And the track is a perfect example that right angles do not produce great overtakes. We've complained about this almost every year we've raced here, and yet the place is still on the calendar.
So instead, I'm more than happy to replace this with the Dubai Autodrome.
If we have to race in the UAE, I want us to do it here.
Look at the layout. Look at the lap. This isn't just a great track for the UAE, it's a great track in general.
Every corner is a challenge. It's not the same thing, it doesn't repeat itself, you have to take a different approach for all 16 of them. And look, not a single one of them is ninety degrees.
It's Grade One, it's got the track width, it has the long straights, the heavy braking zones, the challenging corners, what more could we ask for? Why we aren't going there probably has something to do with money, but come on, we can agree that a track like this deserves a shot at the F1 calendar.
Japan?
While I was looking at the list of Grade One circuits, something really caught my eye, and I wanted to throw it up in the air for you to take a look at.
Suzuka is far from being a bad track. In fact, it's one of my favorites. I love every corner on this track, it's a blast to watch the cars go around it, and even more fun to drive on a simulator.
You can see what I mean.
But another Japanese circuit had Grade One certification, and this one had a name that was very familiar.
Fuji Speedway.
I'd say this has more overtaking opportunities than Suzuka, mainly because of that main straight. It has some nice corners as well, with 100R and all of Sector 3. But it simply doesn't match up to The Esses and 130R. Ideally, I would love to have seperate Grand Prix's for both circuits, but let's say we can only choose one.
Which one would you pick? Let me know in the comments down below your choice and why.
If you liked my ideas, why not share them on your preferred social media platform? And if you'd like to see more, make sure you join our newsletter down below to never miss an update.
I've been Miles Stewart, and I'll see you in the next one, take care!
(Cover image credit: Formula1.com)
Never miss the latest from The Late Brakers.